Last year, I assigned our oldest son a project which we called
a Servant's Heart Project
. It was such a blessing for him and the children he helped. Wonderful life lessons and the joy of helping other's was at the helm of the project. This year, we decided to adopt a family approach to our Servant's Heart Project. This will be a hands on project for the kiddos, as we will involve them in all aspects. We chose a non-profit organization called,
Help One Now
. This amazing organization and group of people commit to rescuing abandon orphans, preventing slavery and rescuing those who have been enslaved, and providing care to vulnerable children so they won't become orphaned. Another main focus of Help One Now is helping families of severe poverty stay together as a family unit. Here is their mission statement:
Mission: Help One Now is a catalytic tribe committed to caring for orphans and vulnerable children by empowering and resourcing high-capacity local leaders in order to transform communities and break the cycle of extreme poverty.
About the Tribe: As a collective group of churches, businesses, communities and individuals from around the world. The people of Help One Now are dedicated to using their gifts, talents and resources to help end extreme poverty, care for orphans, rescue slaves and see communities transformed by serving international partners through Help One Now. We sponsor kids, host garage sales, donate funds, take trips, advocate, and much more.
Our family is going to host a GS4O event (Garage Sale for Orphans). We are still deciding on an exact date but we are shooting for the beginning of November. The kiddos will help organize, price, and set up for the garage sale. The total amount sold at our garage sale will be donated to Help One Now.
WE NEED YOUR STUFF!!! Your excess and throw-aways are exactly what we need for our sale. If you live in our area and have STUFF please contact me. Our family will schedule a time to swing by and pick it up from you.
Also, with the help of Help One Now our family will be creating a GS4O t-shirt. Yet, another great educational experience for the kids. If you are interested in purchasing a shirt I will have more information in the near future. We will donate any extra money (over the cost to make the shirt) along with the garage sale totals.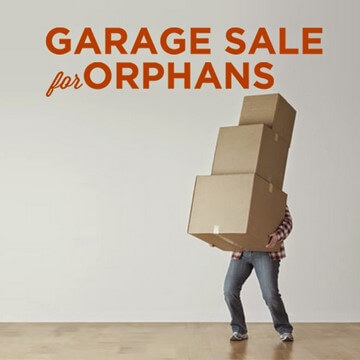 I encourage you to following the link,
Garage Sale for Orphans
, and watch the video. Also, look around on the Help One Now site. It has so much wonderful information. Most importantly, contact me so we can GET YOUR STUFF!!!
As the details evolve, I will let you know. :)